SKILL
KNOWLEDGE
EXPERIENCE
The Performance Diesel Injection Story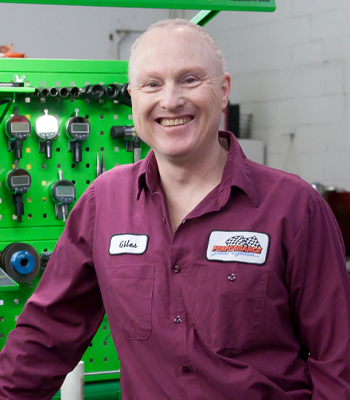 Giles Gallie, Founder and Owner of Performance Diesel Injection, seasoned kart racer and mechanic.
Jason Tyne, Bosch Certified Technician and an avid fisherman and outdoors person who puts his fish back so as to keep a good stock on fish for now and the future.
Opening in 2007, Performance Diesel Injection was to be more than just a fuel system repair shop. Giles Gallie wanted to educate and empower his customers with a true understanding and appreciation for how engines worked. To this day, Giles will gladly answer any question and share his expertise with those who share his passion for automotive performance.
1984
Giles enters the Aerospace Engineering Program at Ryerson University. His goal is to contribute to the Canadian space program. After a year of studying and realizing that he would be relegated to working behind a desk, he leaves the program to seek a more "hands on" career.
1986
Guided by his love of automotive and technical precision, Giles applies for a job at Superior Fuel Injection, an injection and pump repair shop. There he works through the apprentice program recognized by Bosch, Stanadyne, and Delphi (formally Lucas).
1988
Completing the four-year apprentice program in just two years, Giles is now a Qualified Fuel Injection Technician.
1990
Turning his love of engines and speed to a personal passion, Giles gets involved in go-kart racing. That same year he receives Rookie of the Year honours.
1991
Through his technical skills and desire to deliver exceptional customer service, Giles is promoted to manager of Superior Fuel Injection.
1998
After 10 years at Superior Fuel Injection, Giles receives his designation as a Master Technician. This means that he is factory certified to repair and calibrate any fuel injection system on the market. Over the next number of years he continues further training in the newest products and technology.
2000
Giles' love of racing and Karting inspired him to participate in the Bridgestone Racing Academy Formula 2000 Driving Course at the Shannonville Motorsport Park.
2002
Giles becomes the Hamilton Regional Kart Club's Senior Light Campion.
2005
With Giles' growing passion for go-karting, he moves to Shifter Kart Class, the "Formula 1" of go-kart racing.
2007
Seeking new opportunities, Giles leaves Superior Fuel Injection and opens Performance Diesel Injection. Giles' mission is to provide the very best technical services combined with a level of customer care he feels is lacking in the industry. He also focuses on developing new methods for expanding the performance of traditional diesel pumps.
2008
The now famous "Giles Pump" is featured for the first time on Spike TV Xtreme 4×4. The show is seen by hundreds of thousands of truck and performance enthusiasts. Overnight, the "Giles Pump" becomes the gold standard for high performance injection pumps.
2010
With the desire to continually deliver a higher level of service, Giles invests in an Electronic Hartridge Metering Unit. This system provides more accurate readings and adjustments, resulting in significantly improved calibrations. This further strengthens Giles' reputation as an industry leader in the rebuilding of fuel injection systems.
2011
The "Giles Pump" becomes a sought-after item among those seeking performance injection pumps. Automotive blogs, videos, and discussion groups around the world praise the pump for its performance and fuel efficiency.
2014
Performance Diesel Injection adds a Bosch Calibration Bench for common rail injectors, expanding the business into late model diesel vehicles such as pickups and construction equipment.
2015
Jason Tyne joins the PDI team. Trained in South Africa, Jason is one of only a few people in Canada certified by Bosch in common rail injector calibration and repair.
2020
The expansion continues with the installation of a new common rail rebuild system to offer full digital measuring and internal calibration. This allows PDI to offer rebuilds that meets or exceeds manufacturer specifications for performance and emissions using OEM parts.