DIESEL COMMON RAIL INJECTOR REPLACEMENT
DIESEL COMMON RAIL INJECTOR REPLACEMENT
Common Rail Injector Exchange or Replacement
Performance Diesel Injection is ready and qualified to handle any injection system from any manufacturer. And with our exchange program we can provide you with a remanufactured unit on an exchange basis to save you money. Simply purchase your remanufactured common rail injectors, which includes a core-charge. Send us back your good condition, original core for a full refund of the core charge. Some conditions may apply.
Whether you drive a Dodge, Ford, import, or any other brand of vehicle, you can count on the gas and diesel fuel injection specialists at Performance Diesel Injection to bring the boost in power and efficiency you're looking for from your engine.
We offer a variety of services that can help you get the most out of the car, truck, or tractor, including diesel pump services, upgrades, gas injector services, as well as turbo sales and service.
All Common Rail Injectors are fully disassembled and ultrasonically cleaned. Major parts are then replaced with only Original Bosch components (nozzle and valve/ball). The Injector is then fully reassembled with major clearances checked. Finally, a test calibration is run with all values recorded and compared with the factory settings. Changes are then made to settings inside the injectors to bring all values within the correct amounts to pass the Original Bosch test. We use our Original Bosch calibration test bench for this. New seals are provided with each and every exchange injector we make.
Unit Injector Exchange
With our exchange service you get next day service and minimal down time. Call us to enquire about our exchange program for your unit injectors. Every unit injector we ship is professional rebuilt, ultrasonically cleaned inside and out, then reassembled using the latest digital measuring equipment to ensure OE calibration. Contact is for a quote.

WARRANTY
All our products include a 1-year unlimited milage warranty covering manufacture's defects, unless otherwise. Misuse, incorrect fuels, contamination, or improper installation will void the warranty.
CORE RETURNS
Ensure you get the highest value for your returned cores. External damage, broken solenoid studs or connectors, internal corrosion or improper full contamination will negatively impact your core's return value. Download our core return policy to learn more.

SHIPPING
All products are shipped FOB Markham, Ontario Canada. Applicable duties and taxes are based on your location and not included in the shipping charges. Delivery times are estimated and cannot be guaranteed. Please inspect shipping container and product upon receipt and contact freight company of any damage concerns immediately.

TECH SUPPORT
Need answers or advice? Call us during regular business hours to get professional and knowledgeable help. You can also send us your questions through our contact page.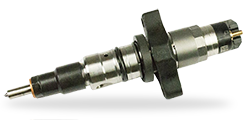 Dodge 6.7L Cummins 07-12 Common Rail Reman Injector Best Quality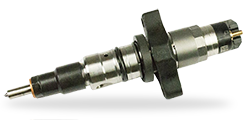 Dodge Cummins 5.9L Common Rail Reman Injector Best Quality 2003-07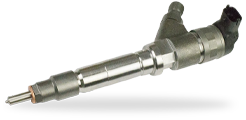 Duramax Reman Common Rail Injector Original Bosch LBZ 2006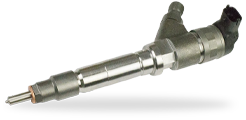 Duramax Common Rail Reman Injector LMM 2007-10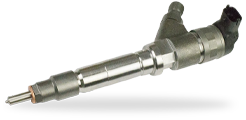 Duramax LLY Common Rail Injector 2004.5-05 fully rebuilt and calibrated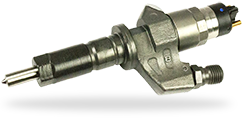 Duramax Common Rail Injectors Remanufactured LB7 2001-04.5
Duramax Reman Common Rail Injectors Original Bosch LGH 2011-16
van and cab chassis
Duramax Reman Common Rail Injectors Original Bosch LML 2011-16
pickup chassis